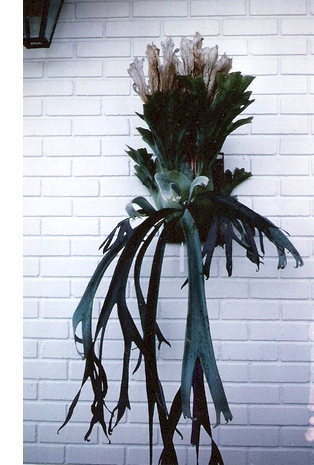 Platycerium willinckii (wil-lin-key-eye) sometimes called Java Staghorn. Native to Java and the Lesser Sunda Islands. Closely related to P. bifurcatum but the shield fronds are different by being very tall and deeply lobed. They quickly turn brown and as they decay a mesh of veins is left standing as pictured right. The fertile fronds grow edgewise at the bud and then flatten and hang down. Many P. willinckii have about 12 fertile fronds growing from the bud. They have more hair on the underside of the fertile fronds. The white hair shields it from high heat and water loss. With the whitish hair, the fertile fronds provide a stark contrast between the brown shield fronds and the green fertile fronds.

Some P. willinckii develop a wide, flat group of pointed, curved fingers at the ends of the fertile fronds (see cv Weeks below). Those with very long fertile fronds are possibly the extreme form of the natural population, but they are also the most distinctive for the hobbyist. The fertile frond length is affected somewhat by its environment and how many are allowed to develop.

The bud of P. willinckii is rather small. This species may remain inactive for quite some time after being shipped, and the small bud is apt to cause the new owner to consider the plant dead.

This platy is easy to grow and offers no specific problems. It forms pups, but not as freely as P. bifurcatum. It does well in medium light, moist moss, and is not prone to rot. It cannot be expected to grow as quickly as, or take temperatures as low as P. bifurcatum. Reports from Thailand suggest rot is a problem for them and this is a difficult plant to grow which is the reverse of So. California where they tend to thrive.

Plants in the American trade are grown from pups. It is almost never imported now, or grown from spore. However Thailand reports, growing from spore may be best? The spore of P. willinckii is green which is an indication they do not live long. They germinate quickly producing sporelings under very moist conditions.
---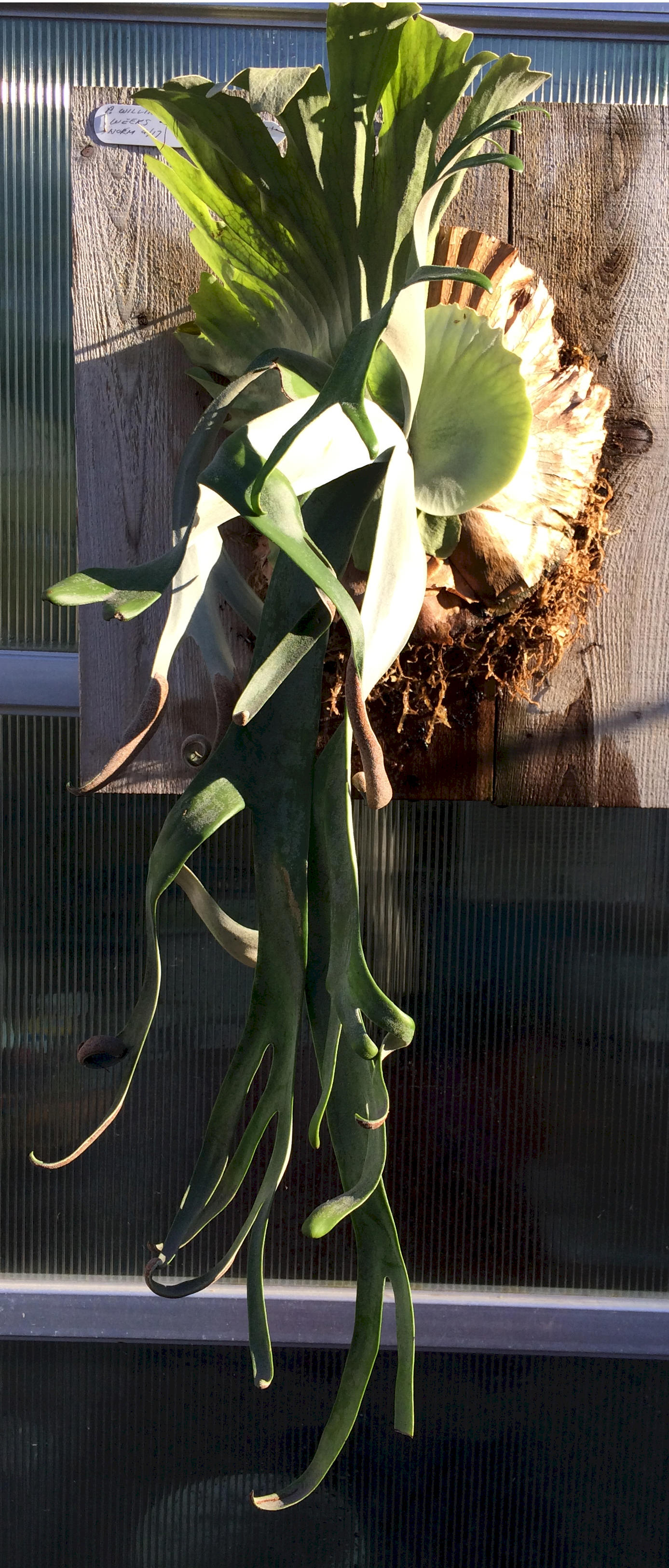 The P. willinckii cv Weeks on the left is from the former Hawaii Staghorns Nursery and nurseryman Ron Weeks in Miami FL. When the unique curling characteristics were observed, it was named after Ron Weeks.
The P. willinckii cv Weeks has a habit of curling the tips of the fertile fronds. Recent observations show the tips of the fertile fronds are thin and narrow. As the spore patch grows, it expands on the underside causing the tips to curl in a distorted manor as seen in photo on right. We have not seen this characteristic on any other species. It almost appears as if the plant is stressed, but that is not the case. It is probably because the fertile fronds are thin and flexible allowing the expanding sporangia to cause the fertile frond to curl.